2017 NCAA Tournament Upsets and Bracket Busters
The Big dance is here and all of the March Madness is about to begin.  A big part of the madness occurs early in the first round of the NCAA tournament with all of the big upsets. The problem is that many fans never see them coming. We are here to help as we have a list of the biggest 2017 NCAA Tournament Upsets for this year in the brackets. Before getting to the big upsets make sure that you check out the 2017 NCAA Tournament First Round Best Bets.
No Luck For the Irish
Princeton is no stranger to upsets and they draw a difficult Notre Dame team in the first round of the NCAA Tournament. Not to mention that Princeton is a No. 12 seed and this is always a popular upset pick. Princeton has a slow and methodical offense that is efficient as it is slow paced. They rank 12 nationally in turnovers as they are one of the best teams at protecting the ball. The motion offense and the depth off the bench will give Notre Dame a tough game in round one.
The Fighting Irish are 2-7 against the spread (ATS) in their last 9 NCAA Tournament games as a favorite and the No. 5 seed is 11-21 ATS as favorites in the last 32 games.
2017 NCAA Tournament SportsBook Special
MyBookie.ag is the No. 1 sportsbook to bet on March Madness and the 2017 NCAA Tournament. Sign up today and open an account using the promo code CHASER and you will get a massive bonus that will put up to $3000 betting dollars in your account for the tournament! Sign up now and check out their $5,000 March Madness bracket Buster contest!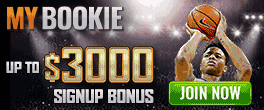 Michigan Feeling Blue
The Michigan Wolverines had an incredible run in the Big Tournament after a scary plane crash, That incident motivated this team to play at their best and the end result was mowing through the tournament and getting an invite to the Big Dance. They get an Oklahoma State team that ended the season on a great run and they have one of the best offenses in basketball.
No. 7 seeds are 11-5 outright against No. 10 seeds since 2013, with favorites going 10-6 and that is good for Michigan. However there are reasons to believe they will be an upset victim in round one.
The Cowboys can spread the floor and they push the pace with strong point guard play. They can also drain the 3 which can make it tough for teams to keep up. Jawun Evans is easily one of the best in the country at pushing the pace and getting players involved.
The Wolverines struggle on defense and they have a problem getting second shots on offense. They are emotionally spent from the run in the conference tournament and will be one and done in this tournament.