2018 World Cup Picks: Will France Win the World Cup?
The 21st FIFA World Cup is the best tournament in the world and this year it will be in Russia. The tournament starts on June 14th and will bring the focus of the world to Moscow. The World Cup odds are now available for betting on this event. Maybe you like the sport or just like watching the World Cup girls. Soccer fans and sports bettors all over the world will be trying to predict which team will win it all. France is one team to consider when making a pick on the World Cup. They will have to survive some other quality teams like Brazil or Argentina. They will also have to hope the favorites in Germany falls, but anything can happen. Will France Win the World Cup?
World Cup Bracket Contest
Picking the best team to win the 2018 World Cup contest is not easy. However if you think you know what teams will win and advance in the World's best tournament, you have to enter the best World Cup Bracket contest. The World Cup Bracket Contest is offering the chance to cheer on your team and take home a nice paycheck, as well. With $10,000 in prizes, you have every reason to get in the game! Entries are unlimited, allowing you to cash in multiple winning checks. Winners will be determined by the accuracy of the bracket submitted. Ties are won by the player who submitted their bracket first. Get in the game and join this contest today!   
Betting on the World Cup
If are good at picking winners and are going to join the bracket contest, check this out. There is another way to make money.You can bet on the World Cup. If you do bet on the World Cup you would want to do it at the best sportsbook for soccer betting. That place is BetMania. Unlike other online sportsbooks, they have a 100% cash bonus to give you real money to bet on the World Cup! Collect your massive bonus and bet on the World Cup now!
Will France Win the World Cup?
The World Cup odds have France at (+650) to win it all. This is only behind Germany (+450) and Brazil (+400). This says that France has a real chance to win the World Cup. This is one of the deepest teams in the field and they have talent all over. They are greater in attack with Kylian Mbappé, Thomas Lemar and Ousmane Dembélé and they are a real threat to in it all. Stop betting on teams like Germany and Brazil and make a bold choice. I am betting on France to win the World Cup and you should to.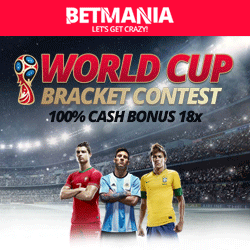 Please follow and like us: