2018 NBA Playoffs Best Bets
The NBA playoffs are staring and for those that like to bet on basketball this is the best time of the year. Perhaps you're interested in watching LeBron James and the Cleveland Cavaliers make a run. Or maybe you trust the process and think the Philadelphia Sixers are legitimate. Maybe you are predicting a Boston Celtics collapse or your trying to figure out of if the Golden State Warriors is going to be a contender. Either way this is going to be a great postseason and it is time to reveal our 2018 NBA playoffs Best Bets.
2018 NBA playoffs Best Bets: Celtics Beat the Bucks
Everyone doubts the Celtics and no one believes that they can advance in the playoffs. The Celtics can win without Kyrie Irving, they play incredible defense and there is every reason to believe that they will advance. The Bucks are a good young squad, but they cannot defend the 3 and Brad Stevens could be the best coach in the NBA. This information suggests that the Celtics will win in the first round.
2018 NBA playoffs Best Bets: Pacers +6.5 in Game One
The Indiana Pacers will not beat the Cavaliers in the playoffs, but they do match up well. The Cavs are the elite in the East and although some will suggest that there is another team in the east that can beat them. It is not the Pacers. However, this small betting line shows that the Pacers could keep this game close. This game goes to the wire and LeBron powers his team to a close win, but cannot cover the spread. Take the Pacers plus the points in game one.
Betting on the NBA is fun and exciting! Now you can get a massive bonus when you sign up at the No. 1 rated online sportsbook! Sign up and bet on the NBA playoffs at MyBookie.ag and get a $1,000 sign up bonus! Sign up using the promo code CHASER and you will get a $20 risk free bet! Get your $1,000 sign up bonus here!  
The New Orleans Pelicans are being overlooked. They have a very good basketball team and Anthony Davis does not have to singlehandedly carry this team.  While Portland is a good team they have a bad habit of falling short in the playoffs. "Playoff "Rajon Rondo lives for these moments and will be a key player in this game. Damian Lillard is one of the best in the business and he will keep the Blazers in this series, but it won't be enough to win. The Pelicans win this series and advance!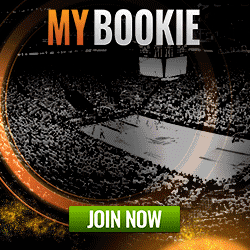 Please follow and like us: