2017 Home Run Derby Odds and Betting Picks
The Major League Baseball season is about to hit the halfway point and that means it is time for the 2017 All-Star game. While the All-Star game is often ignored by baseball bettors there is one event that always seems to get the attention of everyone. That event is the 2017 Home Run Derby.
2017 Home Run Derby Field
The Home Run Derby has an incredible field for this season which includes a very young squad of talented players. With the exception of defending champion Giancarlo Stanton, the field may not be familiar to many people who do not closely follow baseball.
Here is a look at the brackets for the upcoming 2017 MLB HR Derby
The @TMobile #HRDerby bracket is out.

Get ready for some POWER. pic.twitter.com/RQJ64bX70w

— MLB (@MLB) July 5, 2017
The 2017 Home run Derby odds are also out and there is no surprise that Stanton is the favorite. The HR derby is now a event that gives out a bonus for long dingers. That is Stanton's specialty and since he won it last year and is now at home, he is the prohibitive favorite.  At MyBookie.ag the odds for Stanton to win the 2017 Home Run Derby is (+160) which means every $100 on Stanton will return $160 if he repeats as champion.
Aaron Judge wins Home Run Derby         +165
Cody Bellinger wins Home Run Derby     +900
Mike Moustakas wins Home Run Derby  +1400
Miguel Sano wins Home Run Derby         +1400
Gary Sanchez wins Home Run Derby       +2000
Charlie Blackmon wins Home Run Derby +1400
Justin Bour wins Home Run Derby     +1600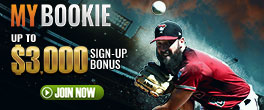 Bet on the Home Run Derby and get a $3000 signing bonus and a FREE $25 play in the casino when you sign up with the promo code CHASER. Get that money today and bet on the Home Run Derby! 
It is no surprise that the Yankees Aaron Judge is the No. 2 seed and the second favorite to win it all. So who will win the 2017 Home Run Derby?
2017 Home Run Derby Betting Picks
Stanton is the obvious choice, but because we like to think outside the box we will pass on the favorite. We will also look past Judge who seems too easy to pick in this spot. The Dodgers have an incredible rookie in Cody Bellinger who is getting some love at the betting window as the No. 3 seed and some nice odds.
The Winner Is…
Although Stanton, Judge and Bellinger are all good choices, the winner of the 2017 MLB Home Run Tournament will be Miguel Sano from the Minnesota Twins. Sano leads the Twins with 18 home runs in 70 games and is hitting .274 with 53 RBI and 41 walks. In 116 games last year, he hit 25 home runs and had 66 RBI. Sano has a big bat and he can drive the ball for some long distance home runs. His average exit velocity of 95 miles per hour is second only to Yankees rookie Aaron Judge (95.8) in the majors. Sano will pay $1400 for the baseball bettor that puts just $100 on Sano to win it all. This is the year that Sano can win it all!
Please follow and like us: